July 2017
Spennymoor children design artwork for the green space at DurhamGate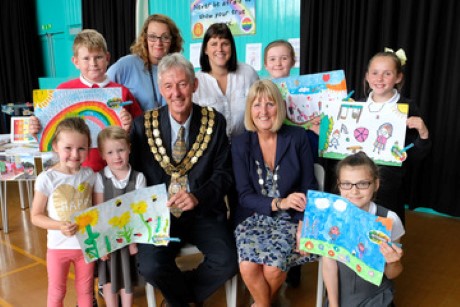 DurhamGate, the leading mixed-use regeneration scheme in the North East, teamed up with Success North East for an art initiative featuring local schoolchildren.
Children from primary and nursery schools across Spennymoor produced art work in the hope of it being re-created in a larger format, and featured along the fencing of The Green Space, DurhamGate's new community parkland. The finished pieces were then judged by the Mayor of Spennymoor, Ian Machin.
The schools involved in the art competition were Middlestone Moor Primary School, Tudhoe Colliery Primary School, Rosa Street Primary School, North Park Primary School, Tudhoe Moor Nursery and Oxclose Nursery School. All participants were presented with certificate and the winner from each school was awarded a prize of their choice from a range of sport and art-related items. The artists will also be invited to view their work at the upcoming opening of the Green Space this month.
The Green Space, which runs the entire length of the DurhamGate development from Eve Lane to Meadowfield Avenue, was designed by award-winning landscape artist Colour Urban Design Ltd. It features a mix of picnic and barbeque areas, tranquil seating areas, as well as exercise facilities for the more energetic such as a fitness trail for walkers and runners, outdoor table tennis tables and a kids' bike trail which features mounds, rumble strips and slalom.
DurhamGate has established itself as growing community in County Durham and a popular place to live and work. Developed in partnership between Carillion and Arlington Real Estate, DurhamGate, has, to date, attracted in excess of £65 million of committed investment and is home to businesses employing a combined workforce of more than 1,000 people.
Mayor of Spennymoor, Ian Machin said, "Community is very important to the people of Spennymoor and this particular project has enabled some great local schools to come together and see the enormous talent of the area's young students.
"The decision to feature pieces of the children's art works to the borders of the park space will add a unique and special element to what we hope will be a popular place for DurhamGate families and local people to visit."
Wendy Minhinnett, from Success North East added, "Ultimately, Success North East's aim is to inspire creativity and success in children and young people across the North East and this competition embodies that. There can be nothing more rewarding than for the winners to see their own art work, featured on the fencing of The Green Space."
Helen Attley, Marketing and Events Manager at Carillion and Arlington Development Partnership said, "The creativity of the children has been fantastic and we can't wait to put their designs on display at DurhamGate."