July 2016
Next stage of development begins at DurhamGate with demolition of Stanley Black and Decker factory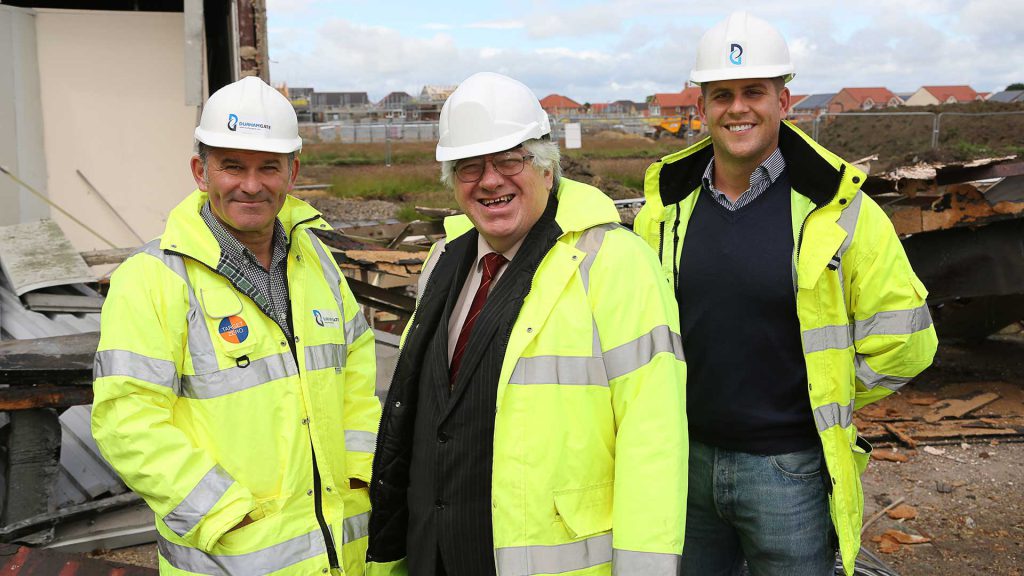 DurhamGate, one of North East England's largest mixed-use regeneration projects, has embarked on the next significant stage of its Masterplan with the demolition of the former Stanley Black and Decker factory.
As a result of the demolition, in line with existing planning permissions, the next 131 new homes will be introduced to DurhamGate following a new agreement with national housebuilder Taylor Wimpey. It will also enable the delivery of new green amenity spaces for both local residents and visitors, construction of which will begin in the summer.
Contractors have embarked upon the demolition of the 100,000 square-foot factory after the developers Carillion and Arlington Real Estate, negotiated a deal to retain Stanley Black and Decker on the site by facilitating the relocation of its Global New Product Development Centre to the newly-refurbished Meadowfield Building at DurhamGate.
The new Taylor Wimpey properties, which will be made up of three and four-bedroom family homes, will join more than three hundred houses already occupied at DurhamGate. Prior to this new agreement, Taylor Wimpey had already made a significant contribution to the development of the residential community at DurhamGate having delivered 100 homes.
These properties form part of a varied and substantial housing offer at DurhamGate complemented by homes from Yuill and a collection of 25 bespoke houses, which are part of DurhamGate's Eve Lane development.
The delivery of further housing at DurhamGate reinforces its position as one of the area's most important new communities and its growing popularity as a place to live and work. DurhamGate, has, to date, attracted in excess of £45 million of committed investment and is home to businesses employing a combined workforce of more than 1,000 people.
Allan Cook, Managing Director of Arlington Real Estate, said: "Having successfully relocated Stanley Black and Decker to new premises within DurhamGate, we can now progress with the next significant stage of our Masterplan, which will see the delivery of further high quality public realm and housing, as well as new investment opportunities for businesses. This will include our first phase of retail, which will add further to the vibrancy of the community here."
Christopher Ives, Development Director at Carillion, said: "The demolition of the former Stanley Black and Decker factory triggers the next phase of the development of DurhamGate and the regeneration of this important part of County Durham. The investments that have been made in infrastructure and the creation of a welcoming community will be attractive to businesses and homeowners."
Cllr Neil Foster, Durham County Council's Cabinet member for economic regeneration and culture, said: "DurhamGate is making an important contribution to Durham County Council's regeneration strategy, which includes the construction of much-needed family homes for the area.
"We are also very pleased Stanley Black & Decker has continued its association with County Durham at its new premises at DurhamGate, demonstrating this area remains a great place to do business."