January 2015
National Savings and Investments receive the keys to Freeman's reach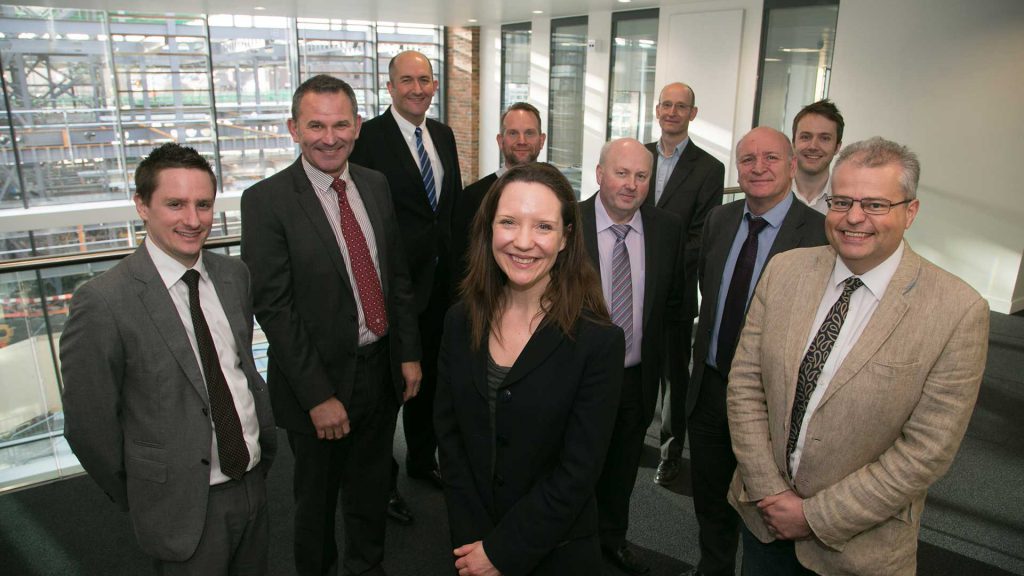 The developers behind DurhamGate have officially handed over Phase One of the Freeman's Reach development to its new tenants, National Savings and Investments (NS&I).
The organisation will transfer its operations and 427-strong workforce from its current base in Milburngate House, on the opposite bank of the River Wear, by the summer.
Construction of the 42,000sq ft. building, which is set across four floors, has been completed on schedule by lead contractor Carillion and its predominantly local supply chain.
The development has excellent environmental credentials, which will enable Freeman's Reach to be awarded an 'A' Rated Energy Performance Certificate and BREEAM* Excellent status. It has also become the first UK city centre development to incorporate a fully-operational hydro-power generator.
Utilising energy from the River Wear, an Archimedean screw drives a generator, which feeds the National Grid with power that is the equivalent of 75% of the energy requirements of Freeman's Reach.
Freeman's Reach is being developed by a consortium led by Carillion, Arlington Real Estate and Richardsons Capital LLP. It is funded by Legal & General.
It is being delivered by a workforce of in excess of 300, which is primarily made up of North East-based contractors and professional service providers.
Phase 2 of the development, a new office for Her Majesty's Passport Office, is currently under construction and is scheduled for completion in 2016.
Alongside the new offices, the Freeman's Reach development will offer improved visitor amenities, particularly for those arriving by coach. It will feature daytime and evening café/restaurant facilities as well as featuring a new tree-lined Riverside Walk.
Helen Hawkley, Assistant Director of Commercial Assurance at National Savings and Investments, said: "Completing the handover marks the renewal of NS&I's association with Durham. The design and open plan layout of Freeman's Reach will provide our staff with a modern and collaborative working environment and we are really looking forward to moving in."
Allan Cook, Managing Director of Arlington Real Estate, said: "Handing over phase one Freeman's Reach to NS&I is a major milestone in realising our vision for the regeneration of Durham's Northern Quarter. NS&I is a recognised occupier so we are very proud that they have chosen Freeman's Reach as their new home."
Neil McMillan, Director of Carillion Developments, said: "Freeman's Reach is an exemplar development and we are very proud of this first, very important, phase of a wider programme of regeneration on Durham's Riverside.
"We believe it sets a high standard for the style, quality and environmental credentials of future developments in Durham by complementing the city's historic architecture and adding value to its social and economic standing."