February 2019
Latest phase of DurhamGate office developments fully-let to Learning Curve Group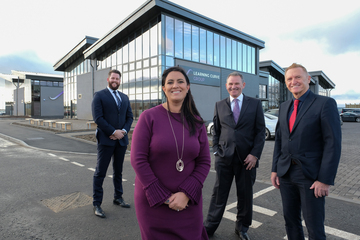 Arlington Real Estate has announced that its latest phase of high-specification office development at DurhamGate has been fully-let as a result of Learning Curve Group increasing its space requirements to meet its rapid expansion.
Having originally planned to occupy 16,000 sq ft of space including a signature headquarters building, the continued growth of one of the UK's leading training and recruitment providers has led to Learning Curve increasing their requirement to 22,000 sq feet.
As a result, the organisation will now occupy the neighbouring office buildings meaning this current phase of office development is now fully let.
Currently employing more than 450 staff and 500 associates across the UK, Learning Curve Group works with 4,500 businesses a year delivering a range of fully-funded training and apprenticeship schemes.
It is an expert on the application of the Apprenticeship Levy and works with a number of large UK companies, including housebuilder Bellway plc.
Following practical completion of the buildings, Arlington has officially handed them over to Learning Curve enabling them to complete their impressive bespoke internal fit out.
The organisation is now in the process of preparing to transfer existing staff from its current office at South Church Enterprise Park, Bishop Auckland, to their new campus at DurhamGate near Spennymoor, County Durham.
Learning Curve Group's new offices form part of a growing business community at DurhamGate that includes Thorn Lighting, Livin Housing and Stanley Black and Decker.
The buildings set across two floors, offer contemporary Grade A workspace with amazing views over the Durham Dales, together with excellent transport links for both staff and visitors.
Delivered to a specification set by Learning Curve Group and its advisers Knight Frank working closely with Arlington, they reflect the high-quality design standards already seen at DurhamGate.
Arlington Real Estate is currently planning its next phase of development at DurhamGate with a detailed planning application expected to be submitted in early 2019.
Brenda McLeish, CEO of Learning Curve Group, said: "The official handover of our new headquarters not only marks the end of the construction phase, but signals a whole new beginning for our organisation in terms of future growth and success."
"The business has grown significantly in the past 18 months and with this expansion it became evident that the additional capacity we were creating with the new building would quickly be filled.
The neighbouring offices Arlington were building were the perfect solution to provide additional space to ensure we can not only meet our current needs, but also provide us with space for further planned growth and employment.
"We very much look forward to moving to DurhamGate; it is the perfect home for Learning Curve Group and provides an excellent environment and location for our staff."
Allan Cook, Managing Director of Arlington Real Estate, said: "We're obviously delighted to welcome Learning Curve Group to DurhamGate and very much enjoyed working with Brenda and her team to design a solution that satisfied the property requirements of a truly aspirational business.
Learning Curve Group is a significant and growing employer in the region, and I am delighted that we have been able to play our part in ensuring these jobs are secured within County Durham adding to the region's economic prosperity"
"Learning Curve alongside our existing occupiers is helping to create a vibrant business destination that complements our established and growing residential community and confirms that DurhamGate is now firmly recognised as a great place both to live and do business in the North East."
Cllr Carl Marshall, Durham County Council's Cabinet member for economic regeneration, said: "I am extremely proud that Learning Curve Group has chosen to expand and keep its business here in County Durham.
"Learning Curve Group is a great example of a company helping to grow and develop skills across the county. Whether it be helping businesses recruit the perfect person for the job or training our valuable workforce, Learning Curve is supporting our people into employment all across the North East and, in turn, providing access to a better future."