July 2022
Key milestone for new Investigative Hub for Durham Constabulary at DurhamGate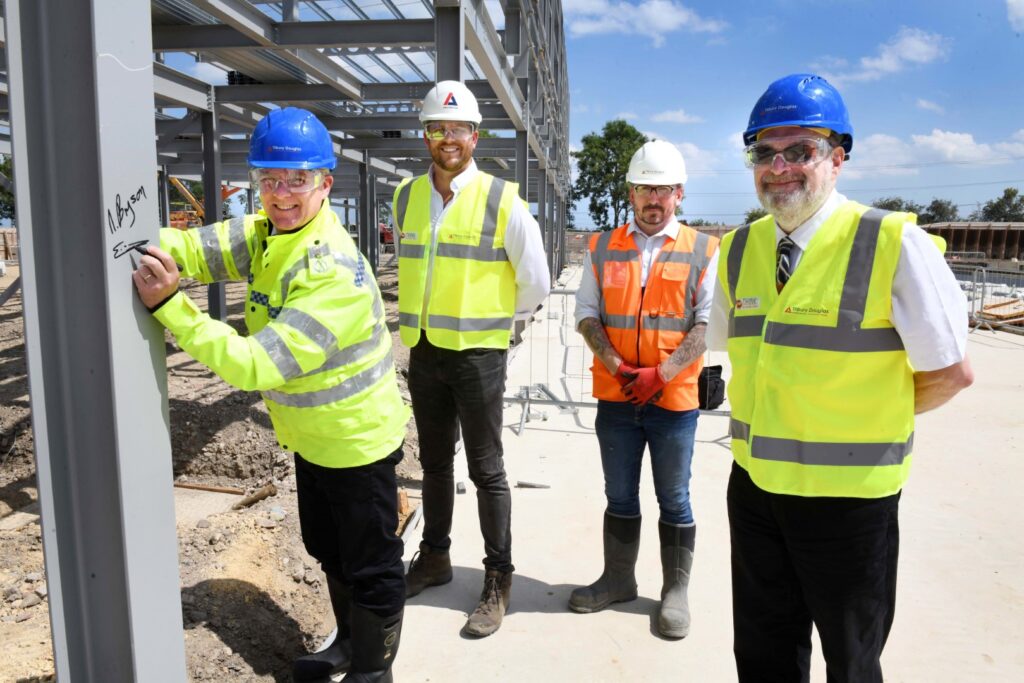 A major milestone has been reached in the construction of a new Durham Constabulary Investigative hub at DurhamGate with the commencement of the steel frame.
Leading UK building, infrastructure, engineering, and fit-out company Tilbury Douglas Construction is the principal construction contractor on the two-storey state-of-the-art project.
The frame, which comprises 260 tonnes of steel, has been fabricated and is being erected by SCH, from Newton Aycliffe.
When completed in spring next year, the hub will provide more than 6,600m2 of up-to-date accommodation, including office space, 48 modern cells, interview rooms, Crime Scene Investigation provision, evidence stores, virtual courts, CCTV, an energy centre, medical facilities, and forensic examination rooms.
It is designed to provide a sustainable and flexible building, which will replace the current ageing custody estate.
The bulk excavation on the Durham Constabulary scheme has been carried out by MGL, of Durham and the foundations and drainage by Raintons, of Durham.
DurhamGate, a landmark mixed-use community, is located five miles south of Durham City.  It currently consists of more than 300 homes alongside community amenities and businesses including the Fox Cub pub and restaurant, a headquarters for housing provider LIVIN, national training provider Learning Curve and Breedon Group.
Mark Gardham, Regional Director North East at Tilbury Douglas said: "We are delighted to be delivering the fantastic new Investigative Hub and it's great to see the progress that's been made on-site so far.
"The recent construction of the steel frame is a significant milestone ahead of the delivery of the pre-cast concrete components, just one of the modern methods of construction that my team is using to improve health, safety, quality, and sustainability outcomes on this important project. Our focus is to deliver a first-class, new facility, befitting of one of the UK's top-performing police forces. "
"As a local North East contractor, our focus is also to maximise social value from the build, including the creation of new sustainable jobs, work placement and apprentice opportunities, that all provide long-term benefits for the local community."
Ciaron Irvine, Deputy Chief Constable of Durham, said: "We are really pleased to see the construction is making good progress and the new building is starting to take shape.
"Once it is operational, the Durham Investigative Hub will allow for the safe detention of prisoners and provide a safer, more modern working environment for our officers and staff.  Most importantly, it will transform our ability to catch criminals, prevent crime and keep our communities safe".
County Durham and Darlington's Deputy PCC Nigel Bryson said: "We are delighted with the progress being made on this state-of-the-art project that promises to put Durham Constabulary on the map for innovation and efficiency.
"Ensuring our police officers and staff have optimal resources and facilities to do their jobs effectively is a key priority and this development will make a huge difference to their investigative work and the delivery of justice, ultimately improving the service to the public.
"It will also maximise the safety and welfare of detainees, utilising the latest technology to make the day-to-day care of those in custody much easier.
"This project represents the largest investment ever undertaken by the Constabulary and we are delighted local firms and the economy are already reaping the benefits."
Dean Cook, managing director of Arlington Real Estate, which is behind the DurhamGate regeneration project, said: "The addition of this state-of-the-art Durham Constabulary investigative hub further heightens the mixed-used community ethos behind the creation and design of DurhamGate.
"We are very proud that Durham Constabulary has selected DurhamGate for such an important new facility as it endorses what we are developing there.
"The investigative hub has started to take shape with the assembly of the steel frame a key milestone in its construction."