March 2017
Expanding training provider to locate new head office at Durhamgate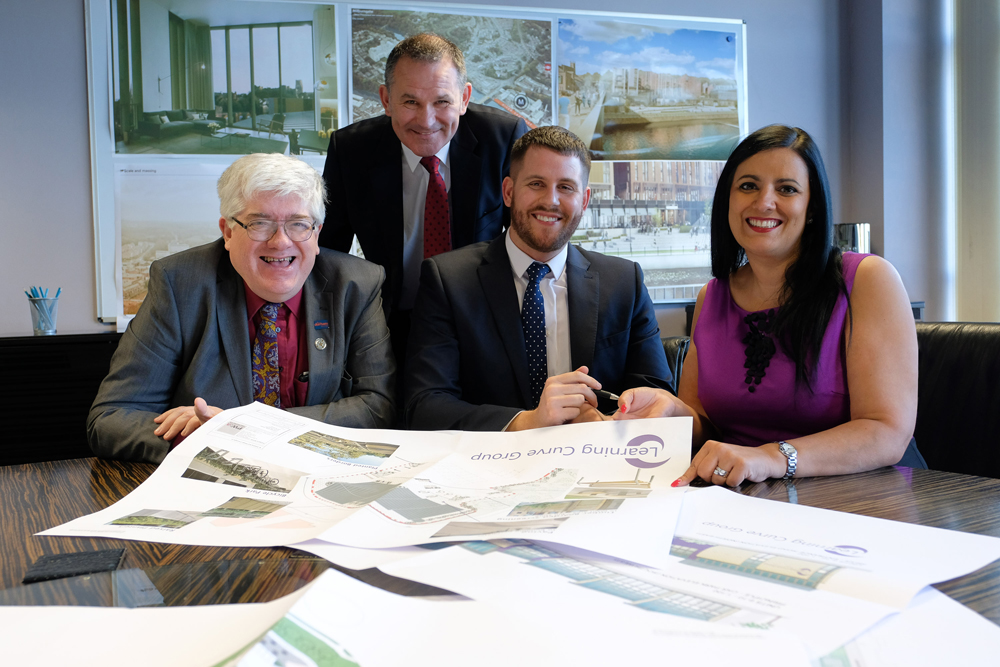 Arlington Real Estate has reached heads of terms with Learning Curve Group to create a new headquarters office for the growing training and recruitment business at DurhamGate.
The new facilities will support the continued growth of Learning Curve Group, which will relocate to DurhamGate from its existing base at Innovation House in Bishop Auckland
Located at DurhamGate North, the new 17,000 sq. ft. headquarters is part of a £1million investment by Learning Curve Group, which will create the capacity needed to accommodate its existing 270 staff as well as up to 60 new jobs.
Subject to receiving planning permission from Durham County Council, construction of the new office building will begin in Quarter Two 2017 with completion expected Quarter One 2018.
The development will be delivered to a specification set by Learning Curve Group and is in keeping with the high design standards already achieved at DurhamGate, which includes the British Council of Offices Award-winning building occupied by homes and communities organisation, Livin.
Set across two-floors, with uninterrupted views over open countryside to the North, the new headquarters building will express the aspirations of the organisation and provide excellent transport links for staff and visitors alike.
An award-winning training and recruitment business, Learning Curve Group works directly with 50,000 learners and 4,500 businesses a year and now employs more than 270 staff and 500 associates across its nine centres.
Founded in 2004, its extensive portfolio of services includes apprenticeships, distance learning qualifications, innovative online platforms and a recruitment business, which it acquired in 2015. The group was also recently awarded the prestigious Investors in People Gold Award as well as Education Business of the Year and Vocational Provider of the Year at the Education Investor awards in London.
Learning Curve Group CEO, Brenda McLeish said: "We've enjoyed many years of success at Innovation House, but, as we continue to grow, we need to move to fulfil our ambitious plans. Having recently been awarded the IPP Gold award for our approach to staff development, we will be taking this further by investing around £1million in our new premises and we intend to fill the additional space very quickly."
Allan Cook of Arlington Real Estate, said: "We are delighted to be welcoming Learning Curve Group to DurhamGate, we have been working with them over the last couple of years to develop an accommodation solution that works for them and meets their needs going forward.
"The creation of this new HQ office is an important part of the continued development of DurhamGate and demonstrates, once again, that this part of the region continues to remain attractive to good quality employers who bring with them good quality jobs for the local economy."
Cllr Neil Foster, Portfolio Holder for Economic Regeneration at Durham County Council, said: Cllr Neil Foster, Portfolio Holder for Economic Regeneration at Durham County Council, said: It is brilliant that a firm so engaged in raising the potential of people is committed to the area, while, at the same time, unleashing the potential of this exciting business location."