March 2017
Durhamgate to embark on Green Space Project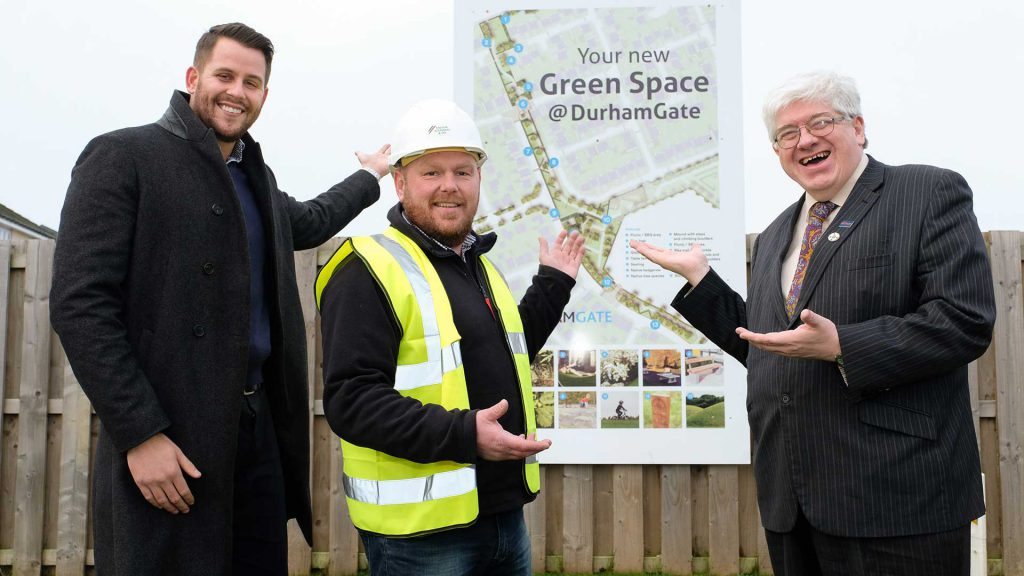 DurhamGate, County Durham's leading mixed-use regeneration scheme, has begun delivery of its new community parkland which has been designed by award winning landscape architect Colour Urban Design Ltd.
This large Green Space, which runs the entire length of the development from Eve Lane to Meadowfield Avenue, features a mix of tranquil seating areas, as well as exercise facilities for the more energetic.
Local landscapers Trevor Atkinson & Co. Ltd were appointed in November to deliver the 12,500 square metre scheme and are now on site with phase one of the project.
Connected by an attractive tree and hedgerow-lined walk, the scheme contains picnic and barbeque areas and a peaceful glade.
For the more active there is a fitness trail for walkers and runners, outdoor table tennis tables and a kids' bike trail which features mounds, rumble strips and a slalom.
The introduction of the Green Space at DurhamGate has been made possible by the demolition of the former Stanley Black and Decker factory. The space created by the demolition is also facilitating the addition of a further 131 new homes, which are being built by Taylor Wimpey.
DurhamGate has established itself as growing community in County Durham and a popular place live and work. Developed in partnership between Carillion and Arlington Real Estate, DurhamGate, has, to date, attracted in excess of £65 million of committed investment and is home to businesses employing a combined workforce of more than 1,000 people.
Dean Cook from Arlington Real Estate, said: "The new parkland will be a focal point at the very heart of our growing community at DurhamGate. It has been long awaited and once delivered will have something for everyone to enjoy all year round. Having worked with team from Colour and Trevor Atkinson over the last few months refining the scheme I am really looking forward to seeing the design come to life."
Cllr Neil Foster, Durham County Council's Cabinet member for economic regeneration and culture, said: "This latest development at DurhamGate is a great use of space and will create an excellent amenity for local people. Residents and visitors will really enjoy the mix of peaceful, relaxing areas and fun activity spaces to support their healthy lifestyles."