August 2017
DurhamGate residents dance their way to green spine summer event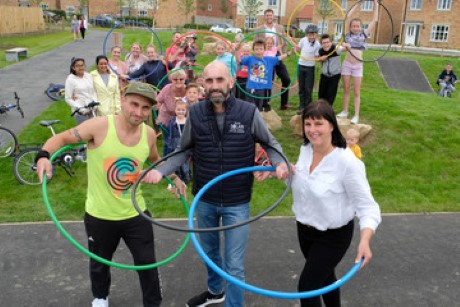 DurhamGate is celebrating the school holidays with a danceathon and family fun evening at its newly-completed phase one of the green space.
The event, which took place on the new community parkland was enjoyed by residents of DurhamGate and invited guests. Some residents of the development wore bright colours and participated in a danceathon with local Personal Trainer and Fitness Coach, Robert Proud.
Robert led guests through the green space, which runs the entire length of the development from Eve Lane to Meadowfield Avenue, to the hub area where the danceathon and hoola hoop session took place.
The green space is a 12,500 square metre scheme and features an attractive walk and fitness trail for residents and locals to enjoy. The parkland also includes barbeque and picnic areas, as well table tennis tables and a bike trail with mounds and a slalom. The second phase will be started towards the end of the year and will include outdoor sports equipment and further picnic areas and seating,
To add a traditional summer twist and to cool off danceathon participants, DurhamGate organised an ice cream van to be on site to hand out free treats. The Solan Connor Fawcett Family Cancer Trust also attended the event, selling merchandise to raise money for the Spennymoor-based charity, which helps those affected by cancer in the County Durham and Darlington areas.
Robert Proud said, "As the summer holidays go on parents are often trying to come up with plans to keep families both happy and active. The Green Space is a fantastic area, which is on the DurhamGate Resident's doorstep, and has so many features to enjoy."
Helen Attley, Marketing and Events Manager at Carillion and Arlington Development Partnership added, "The event was a great way to bring everyone together and give residents and local people the first experience of the new green space at DurhamGate. The danceathon inspired everyone to be active and perfectly demonstrated exactly what the parkland has to offer."