April 2015
DurhamGate helps local school children gain important employability skills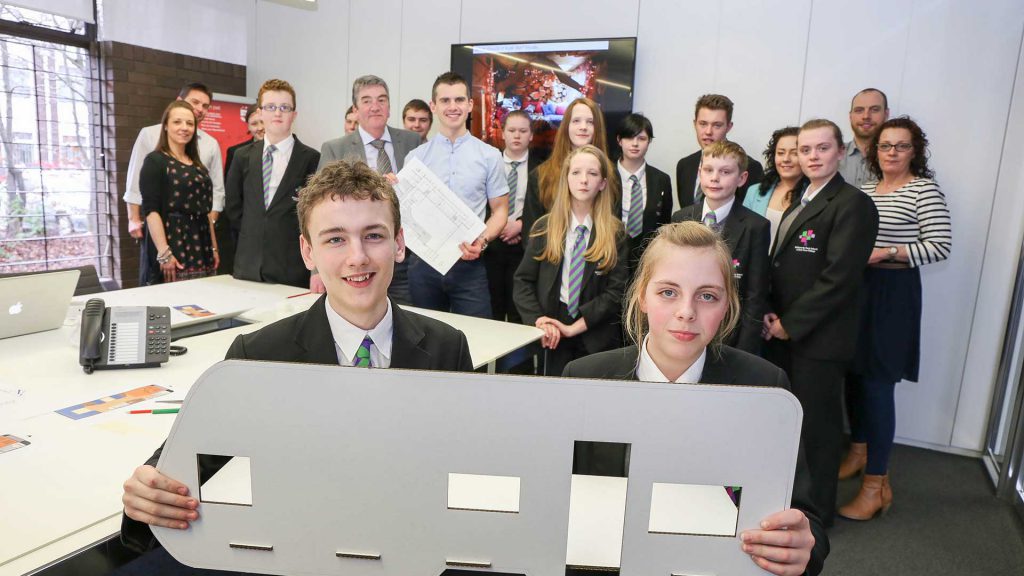 DurhamGate teamed up with architects FaulknerBrowns and Colour Urban Design to provide students at Whitworth Park School with practical work experience to improve the groups' employability skills.
The project, which involved a number of creative workshops, saw the students come together and design plans for the rejuvenation of a run-down area of land within the school grounds that will incorporate a caravan donated by Mears and Livin.
After gaining the backing of DurhamGate-based businesses the students have a starting budget of £5,000 and have been tasked with securing additional funds through fundraising events and match funding throughout the project.
The student's latest session saw them individually create a physical model of the caravan and discuss how it would be used to benefit the school and the community, suggestions included using it as a homework area, a small meeting room or an after school zone.
During the course of the project the group will work in a range of situations requiring them to display and develop skills such as teamwork, creativity and debating skills, all of which will be easily transferred into the working environment.
The work experience arranged by DurhamGate is part of the company's wider commitment to help support the career development of young people throughout South West Durham, which includes its own apprenticeship programme.
Wendy Minhinnett, DurhamGate project development manager, said: "The workshops have allowed the group to experience the workplace first-hand and gain an understanding of the responsibilities that comes with a career in architecture.
"It's important that businesses invest resources into preparing school children for the world of work and would encourage others to follow DurhamGate's lead."
Chris Elias at FaulknerBrowns, said: "As an employer we would urge young people to gain as much work experience as possible to enhance their skill set. The value of practical placements will serve them extremely well going forward."
The project has been endorsed by Channel 4's George Clarke, star of The Home Show, The Restoration Man and Amazing Spaces, who previously worked at FaulknerBrowns.
He said to the children: "I think it is absolutely brilliant that you are all involved in such an exciting design project. I hope my Amazing Spaces series has inspired you to draw, design and build for many years to come. Keep up the brilliant work and I look forward to seeing many more of your amazing caravan designs!"