June 2014
DurhamGate embarks on Tea Party tour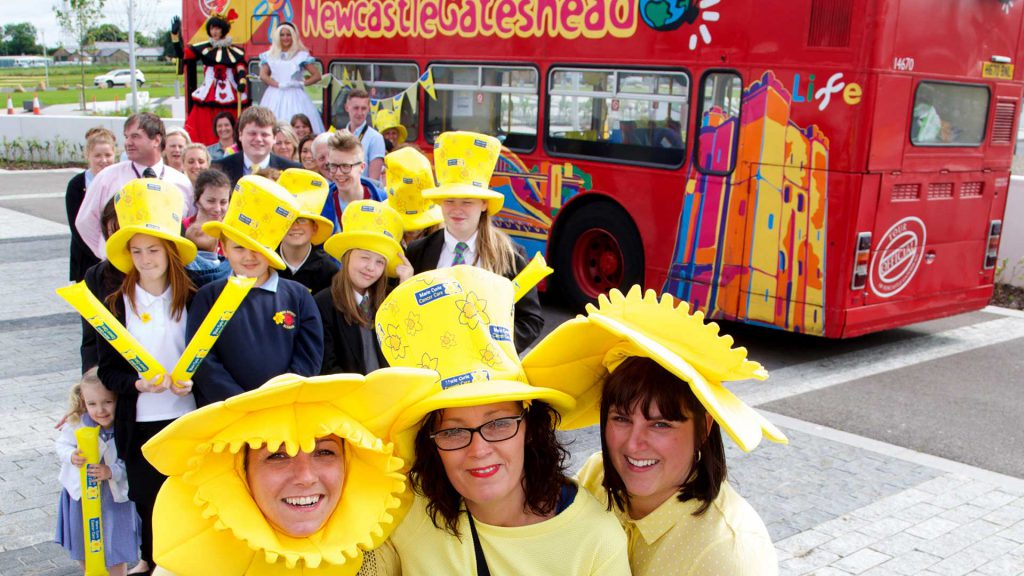 DurhamGate, County Durham's leading regeneration project, has partnered up with Success North East to brew up a 'Blooming Great Tea Party' for local schools across Spennymoor to help raise funds for Marie Curie Cancer Care.
The DurhamGate team, accompanied by the Queen of Hearts on Stilts, the Mad Hatter and the Rabbit and event sponsors* visited schools on a double decker bus to host ten special tea parties on 19– and 20 June.
Pupils at the schools enjoyed refreshments, entertainment and designed their own teapot during the visit.
Following on from the two day bus tour, DurhamGate, created through a partnership between Carillion Developments and regional property business, Arlington Real Estate, is hosting a 'Blooming Great Tea Party' on 22 June, part of a national campaign by Marie Curie to help raise funds for nurses caring for terminally ill patients.
The fun-filled three hour celebration will include a magic show, food vans, side shows, teacup ride, balloon modelling, stilt walkers, a visit from brass music band, Jazz In My Pants and a great cup of tea of course!
Guests will be invited to take part in a competition to guess the number of balloons in a Citreon DS3, which will cost £2, with the winner receiving the car for a weekend of their choice.
Community events such as these are quickly establishing the development as a popular place to live and work. DurhamGate is now home to businesses employing a combined workforce of more than 1,000 and has already sold more than 60 percent of the new homes built.
Established in 1948, Marie Curie Cancer is a UK charity dedicated to the care of people with terminal illnesses. It is the biggest provider of hospice beds outside the NHS and provided more than 1.3 million hours of nursing to 30,080 patients during 2012-2013.
Helen Attley, Concierge Manager at DurhamGate, said: "The tea party tour was a fantastic event. The stilt walkers and teapot workshop were extremely popular with the school children.
"We're really looking forward to welcoming the local community to DurhamGate for the 'Blooming Great Tea Party'. With the wide range of entertainment I'm sure everyone will have a great time, but more importantly we will raise money for a fantastic charity."