August 2014
DurhamGate delivers work placements for DofE candidates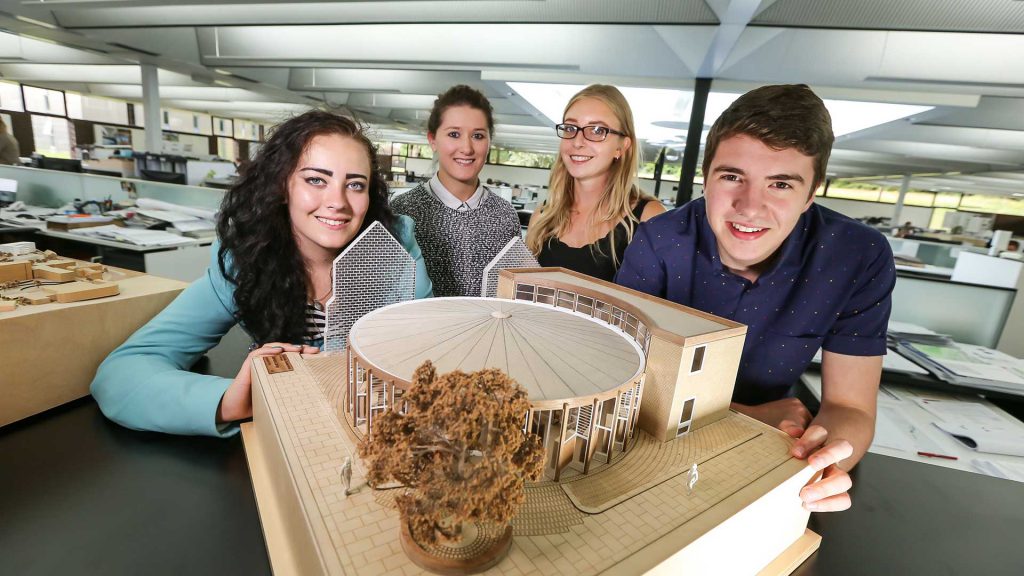 The DurhamGate Duke of Edinburgh (DofE) Award programme is helping two of its candidates gain valuable work experience with a placement at FaulknerBrowns.
Demi Minhinnett and James Gillis, from Whitworth Park School and St John School respectively, have taken part in a week-long placement with the leading architecture firm.
The Killingworth-based company has designed the work placement programme to give participants experience of following a design project to fruition and aims to help young people consider a career in architecture.
Demi and James were mentored by Emma Bramley and Christie Rowan-Smith, Master's Students from Northumbria University currently working at FaulknerBrowns, who helped the pair design a building and create a physical model during the course of the week.
The work placement arranged by the DurhamGate DofE programme is part of the company's wider commitment to help support the career development of young people throughout South West Durham, which includes its own apprenticeship programme.
DurhamGate, a partnership between Carillion Developments, part of Carillion plc, and regional property business, Arlington Real Estate, works closely with the charity in order to engage with young people in the local area, helping them to raise their self-confidence and build on their personal development, as well as equipping them with skills that will have a positive effect on their lives and ultimately improve their employability.
Alongside the programmes founders, a group of businesses, known as 'Friends of DurhamGate', support the programme through funding and by providing valuable work experience placements for DofE participants.
Jackie Gardner at FaulknerBrowns, said: "Deciding which career to pursue is an extremely important decision for a young person to make. Work placements help aspiring architects to gain an insight into the work we do on a day-to-day basis and provide a greater understanding of the profession, university courses and other opportunities open to them."
Helen Attley, DurhamGate Concierge Manager, said: "With the help of our business partners and local businesses we can help provide placements like this for many more young people in the area.
"It is a great opportunity for our DofE candidates to gain a practical understanding of the industry they wish to work in and also provides the chance to develop important skills that will prove useful in the future."