May 2014
DurhamGate build on construction career programme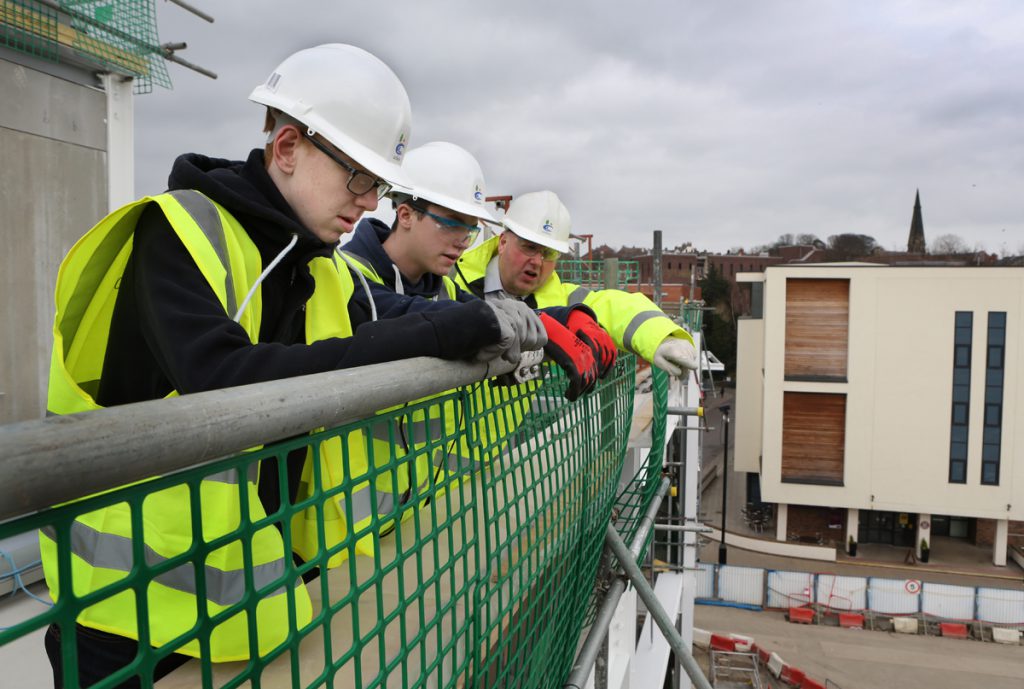 Freeman's Reach played host to a group of DurhamGate Duke of Edinburgh (DofE) Award Candidates who took part in a tour of the development to help build an interest in the construction industry.
The tour gave candidates the chance to learn more about the industry and its wider opportunities and challenges, using its hydro-turbine and 'bat hotel' in addition to the main building development to demonstrate the diversity of construction works on a single site.
The visit was part of a recent wider DurhamGate DofE construction careers project, which included a careers workshop and construction challenge.
The development has become a popular destination for educational site visits and recently welcomed two groups of students from Durham University as part of an intensive module to supplement their academic activities.
Freeman's Reach will have the first hydro-power turbine in a city centre development in the UK. Its developers have also improved the bio-diversity at the site to ensure it is ecologically responsible by creating installations such as the 'bat hotel'.
The 'hotel' has been created specifically for the Daubentons bats that inhabit the area surrounding the development. It is a concrete and masonry structure, which has been buried beneath an area of the development next to the riverbank.
DurhamGate, a partnership between Carillion Developments, part of Carillion plc, and regional property business, Arlington Real Estate, works closely with the charity, The Duke of Edinburgh's Award, in order to engage with young people in the local area, by helping them to raise their self-confidence and build on their personal development, as well as equipping them with skills that will have a positive effect on their lives and ultimately improve their employability.
Alongside the programmes founders, a group of businesses, known as 'Friends of DurhamGate, support the programme through funding and by providing valuable work experience placements for DofE participants.
Ian Beaumont, Project Director of the Freeman's Reach Development, said: "I am very pleased that Freeman's Reach is helping to support the development of the DofE candidates and providing them with an understanding of the careers options available.
"The programme has provided the young people who took part with skills that are easily transferred to the workplace and they have also gained a solid understanding of what the construction industry has to offer."
Wendy Minhinnett, DurhamGate DofE Project Development Manager, said: "The tour proved to be very useful for the candidates. It has complemented the careers programme and construction challenge perfectly by adding to the candidates understanding of the industry."