February 2019
Durham is changing and Allan Cook, managing director of Arlington Real Estate, is the man with the new blueprint.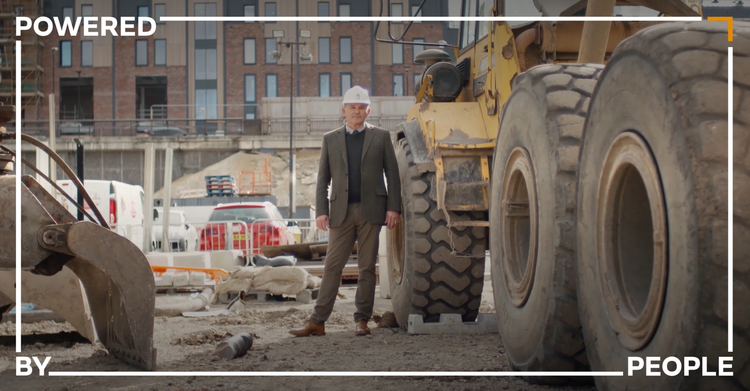 So, how do you build a future for a city with a globally-recognised heritage built into every twisting cobbled street, all crowned with a first-choice university and a breathtaking castle and cathedral?
The answer is "very respectfully", framing the views rather than spoiling them, and adding the things that even one of the world's most admired cities is missing.
The job of overseeing the next era of change at Durham belongs to Allan Cook, MD of Arlington Real Estate, which is delivering Milburngate a £150m mix of commercial and residential buildings.
The Arlington Richardson Development Partnership has already made its mark on the county with Freemans Reach just across the river from the new site, and Arlington is also responsible for DurhamGate at Spennymoor 90 acres of prime regeneration including homes for more than 350 families.
As an 11-year-old kid, Hartlepool-born Allan would cycle up and down Durham's streets on his racing bike, never dreaming that one day he would be building new streets to take a new generation of children to new places. It has been a long journey to get to the point where, as you read this, Milburngate is starting to be built.
"Although we already had planning consent in place for the project, you have to remember that this isn't just a single building we are creating a whole new quarter for the city so things have been moving around as the different elements have come together," said Allan in a very smart temporary office in a corner of the site bustling with cranes, earth movers and trucks.
"But from the very start we knew exactly what we wanted the masterplan to be and that included making the most of the waterfront as a priority but also, with a position right next to the East Coast main line, we wanted to open up the city to visitors getting off the trains by having a new pedestrian access to take you down to Framwellgate Peth and then pop you out under the railway arches and on to a wide staircase to a series of public squares."
The vision is remarkable, and has been enough to lead a series of high-profile tenants to sign up. A 92-bed heritage brand Premier Inn hotel will be in place alongside Everyman, which has chosen the scheme for its first boutique cinema commitment in the North East, as well as food and drink outlets Miller and Carter and Pitcher & Piano, which is known for the precision with which it chooses its site, making Durham only the 19th in the group.
And all these brands and so many more to be announced want to be part of this new quarter before a brick has been laid, which underlines the faith big names have that developers such as Arlington will create something special. But it also speaks about the rarity of the opportunity to create a dramatic new landmark among so much that so many people treasure.
Allan knows how important The look and feel of the place are turning out to be just as I had hoped Allan Cook 35 those treasures are: "When you get down that staircase you will get a great vista of St Nic's church spire and then, when you land on the first public square, there is another new view looking across to the castle and the cathedral.
"The thing that is underpinning everything that we are doing is the public realm, so having set that and how it links together, we are now securing it and designing the buildings within it. I knew how important that public realm was, but just as important is creating the right mix of uses, allowing people to enjoy it all day every day, because I have seen how places like Canary Wharf operate in London. Monday to Friday before 3pm it is like New York but go in at 6.30 in the evening or at the weekend and there's hardly anyone there.
"We want to keep Milburngate enlivened, not only so that it feels good to be there, but also to create a safe environment and not somewhere you would rather not go at certain times of the day."
Again, this is all about providing some of the few things the city lacked. That's a small list, but perhaps an obvious one, with city centre living and Grade A office space getting the top spots. Student living is a big factor for a city that has a university that people will travel a great distance to attend, but it also means there are a great many places for them in the city, with the value of the properties soaring, which has made it challenging for normal housing to find a foothold, so Allan is going to build more than 150 high-spec apartments sharing some of the city's best views.
The first phase of office space at Milburngate will release 53,000 sq ft over five floors, and will be ready for fitting out towards in early 2021. That's earlier than planned, recognising the fast pace that the rest of County Durham is setting.
Word is getting out about what Allan and his partners are building here and people want to be a part of it as soon as possible as they make their own plans for new headquarters and regional bases in a place where quality eating, meeting and hotel space for their clients and built-in essentials such as car parking is all close at hand.
"The look and feel of the place are turning out to be just as I had hoped," says Allan. "There was never any point in us building something that fitted all the planning requirements but was not what enough of the market wanted. It had to do both and offer quality on every level, which is why it has been so pivotal to have such a good relationship with the council that means we can work with them to develop the masterplan as demands have changed and make sure nothing falls short of the standards the city expects.
"Having a World Heritage cathedral as your neighbour is a tough act to follow, so what we have to do is look at the grain of the city and try not to rub up too hard against that. Possibly one of the things that has understandably held back the town centre is that they are old Turn to Page 36 36 and historic buildings, and some businesses just want to be able to potato-stamp themselves into a building, asking for open floor plans and large windows.
"Retail is really important, but it doesn't drive the city in that it is clearly not the main reason people travel here they want to experience the character of the city itself and we wanted to work with that and add to it where we could."
He has already done that at the £38m Freemans Reach site across the river, which is now home to HM Passport Office and National Savings and Investments, with their combined near 1,000-strong workforces.
The fact that one of the squares at Freemans Reach has a bridge landing point built into it but no bridge is proof Allan saw the potential for linking the two sites and planned ahead without knowing whether it would be him or another developer who would get the opportunity.
The Durham Ice Rink which used to be on the site was much-loved but unviable, so there was plenty of local pressure from people, saying "this had better be good"¦".
And it was, literally laying the foundations for how a city like Durham can progress and showing that every inch of the river has potential for renewal as the oxygen of change is pumped into it by developers such as Arlington.
Allan says: "Once you engage with people and explain what you are really about, they understand more and start to realise that you won't be coming back and changing everything once they've agreed to it, and I'm proud to say that you can hold up the CGIs we did for Freemans Reach before we got planning and what they saw was what they got. "And I am just as hopeful that the images we have released of how we want Milburngate to look is what we will deliver for them. I love this city, but I think it has been quite constrained, certainly from the days when my mum and dad brought us here as kids.
"But now the whole city feels on the cusp of something very special. There is a shared momentum behind it and I am particularly proud to be a part of that for the next four to five years as Milburngate helps Durham to grow."
Allan is also chair of the Lumiere development board, keen to find yet another way of shining a light on the boundless potential of this great city.
This life-enhancing light show uses nighttime Durham as the canvas for around 150 artworks made by hundreds of artists and thousands of community participants. After a short break, organisers Artichoke are bringing the event back in both 2019 and 2021.
"When we first started talking about it with Artichoke back in 2008, we were targeting around 50,000-70,000 visitors, but the last one hit 240,000 so it has clearly had a big impact and now has an enormous reach," said Allan.
"It is something else that changes people's perception of what Durham is all about and is why the council's new 'Powered by People' strapline really hits the mark for me. Nothing happens unless you have the right people making it happen who want to show that it is not just about the developments and the investments it is a combination of all the elements that make Durham such a unique place. When you have that critical mass you start getting the feelgood that attracts more of the right people to continue the momentum.
"I have been banging the drum for Durham for years, and I honestly feel it is now coming together because the council has been brave enough to embrace and drive the need to change and reveal the real scale of the city."
The fact that Arlington and its boss have such deep local roots gave Allan's ambitious plans credibility from day one this was a person who knew the area and was one of many for whom it meant a great deal. So there was a trust, a bond, which is about to be repaid above all our expectations over the next few years in ways none of us can yet fully imagine.